Boston & District Canine Society
DACHSHUND (MIN WIRE-HAIRED)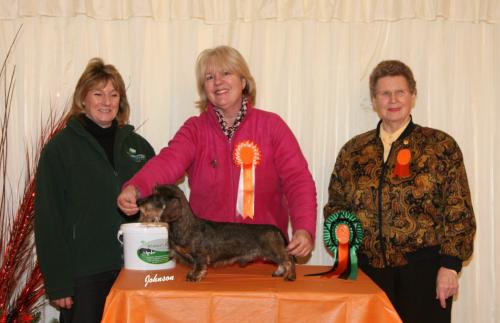 CH/JAP CH DRAKESLEAT JP TRIER WINSHOTEN (MESSRS J & J HORSWELL & IWAMA) WINS HOUND GROUP

Date: 9th - 11th January 2009

BD
CH/JAP CH DRAKESLEAT JP TRIER WINSHOTEN (MESSRS J & J HORSWELL & IWAMA)
RBD
DRAKESLEAT WIN ALOT (MRS Z THORN-ANDREWS)
BB
DRAKESLEAT KNOT ON YER NELLY (MRS Z THORN-ANDREWS)
RBB
DRAKESLEAT MISS SUEBISHY (MRS Z THORN-ANDREWS)
BOB
CH/JAP CH DRAKESLEAT JP TRIER WINSHOTEN (MESSRS J & J HORSWELL & IWAMA)
BP
DRAKESLEAT WIN ALOT (MRS Z THORN-ANDREWS)

PUPPY - Dog

Entries: 6 Absentees: 1
1st
DRAKESLEAT WIN ALOT (MRS Z THORN-ANDREWS)
2nd
ROAMANBAY ROCKY HORROR (MR S ARCHER)
3rd
DANVICHAR EUPHRASIA (MRS H MOORE)
Res
TARKUS HARVEST GOLD (MRS M YOUNG)
VHC
NORDACH MR MUFFIN OF TARKUS (MRS M & MR S J YOUNG & OTTER)

OPEN - Dog

Entries: 2 Absentees: 0
1st
CH/JAP CH DRAKESLEAT JP TRIER WINSHOTEN (MESSRS J & J HORSWELL & IWAMA)
2nd
DANVICHAR BERGAMOT ShCM (MRS H MOORE)

PUPPY - Bitch

Entries: 5 Absentees: 2
1st
DRAKESLEAT KNOT ON YER NELLY (MRS Z THORN-ANDREWS)
2nd
ROAMANBAY ROCK CHICK (MR S ARCHER)
3rd
MONTRAVIA NIGHTINGALE (MRS J HOPPER)

JUNIOR - Bitch

Entries: 3 Absentees: 1
1st
TARKUS MYSTIQUE (MRS M YOUNG)
2nd
DONNADOON DAPPLE DIAMOND OF TARKUS (MR S OTTER)

POST GRADUATE - Bitch

Entries: 1 Absentees: 0
1st
SPENGRETTA LILLY LADY (MISS N & MRS M THOMPSON)

OPEN - Bitch

Entries: 4 Absentees: 1
1st
DRAKESLEAT MISS SUEBISHY (MRS Z THORN-ANDREWS)
2nd
BASSODON DITA VON TEESE (MR K, MRS L & MISS E BLACK)
3rd
GUNRANGE OPHELIA WITH JAYBIEM (MS J B MILES)
MINIATURE WIRE HAIRED

PD (6,1) 1 Thorn-Andrews' Drakesleat Win Alot. Cracking pup by BOB, with a big future. Top quality type, make and shape. Balanced all through with excellent headpiece, lovely front and forehand, strong neck of good length, level with good cage of depth beneath, good, well used quarters in excellent condition, sound and true. BP & RBD. 2 Archer's Roamanbay Rocky Horror. Nice sort, a bit 'high in the sky' just now but maturity may rectify, good head, front and forehand, level with decent ribbing, loin and quarters. Sound. 3 Moore's Danvichar Euphrasia.

OD (2) 1 Horswell and Iwama's Ch/Jap Ch Drakesleat JP Trier Winshoten. Top quality with type and balance. Lovely head and properties, excels in front and forehand, good ribbing of depth, strong topline with supple loin and well defined quarters, presented in immaculate form, moved and showed so well. Will have to watch out for his BP son in the not too distant future. BD, BOB & G1. 2 Moore's Danvichar Bergamot ShCM. Close up and lots to like about. Cracking head, not quite the neck or shoulder of winner but nice. Good rib and topline, best of quarters, excellent muscling all through, immaculate presentation, moved and showed well.

PB (5,2) 1 Thorn-Andrews' Drakesleat Knot On Yer Nelly. Top quality brindle pup by BOB, of type and balance with lovely head and properties, excellent front and fore, good topline, well ribbed for age with well constructed quarters. Time and confidence should see her go far. Moved soundly. BB. 2 Archer's Roamanbay Rock Chick. Moderate with some good qualities, may come on from here, good forehand, topline and ribbing, presented well in coat and condition, sound. 3 Hopper's Montravia Nightingale.

JB (3,1) 1 Young's Tarkus Mystique. Nice sort of brindle with promise. Good head, front and rib, excels in quarters, hard condition, moved and showed. 2 Otter's Donnadoon Dapple Diamond of Tarkus. Moderate dapple, wide in front, short headed, level with decent ribbing, sound.

PGB (1) 1 Thompson's Spengretta Lilly Lady. Tidy light brindle with decent head properties, forehand, nice keel, topline and in good coat and condition, sound.

OB (4,1) 1 Thorn-Andrews' Drakesleat Miss Suebishy. Typy brindle of quality. Decent head, excellent forehand, good ribbing, keel, topline, coat and condition, moved nicely. RBB. 2 Black's Bassodon Dita Von Teese. Nice youngster with good head, front and fore, good flow through neck and shoulder, nicely made up in rib, excellent coat and condition, strode out well. 3 Miles' Gunrange Ophelia With Jaybiem.
Roger Wright