SKC (May) 2005
Dachshund (Miniature Wire Haired)
Judge: Mrs Jean Matthews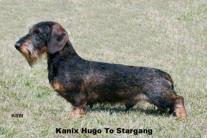 Best of Breed - Blackburn's Kanix Hugo to Stargang
DCC
KANIX HUGO TO STARGANG (MRS E P BLACKBURN)
RDCC
CH KANIX DUNCAN (MRS K S WILBERG)
BCC
CH DRAKESLEAT LETTUCE OWT (MRS Z THORN-ANDREWS)
RBCC
DRAKESLEAT I REST MY CASE RABYMERE (MRS Z THORN-ANDREWS)
BOB
KANIX HUGO TO STARGANG (MRS E P BLACKBURN)
BP
KANIX HUGO TO STARGANG (MRS E P BLACKBURN)

MIN PUPPY - Dog

Entries: 3 Absentees: 2
1st
SOLETRADER DAX FACTOR (MR & MRS ROBERTSON)

PUPPY - Dog

Entries: 4 Absentees: 3
1st
KANIX HUGO TO STARGANG (MRS E P BLACKBURN)

JUNIOR - Dog

Entries: 2 Absentees: 1
1st
AUCHANS ROGER THE DOJJER (MR J & MRS M J, MRS M ALLAN & DICK)

POST GRAD - Dog

Entries: 3 Absentees: 1
1st
RUSSTECK ORSINO (MRS C RUSSELL)
2nd
LORETTO SNUFFBOX ShCM (MRS A B DUNK)

LIMIT - Dog

Entries: 3 Absentees: 1
1st
MOLLONEY TERRA FRIED AT COTHERSTONE (MISS A MORTON)
2nd
BOTHLYN KNIGHT DREAMER AT BRONIA (MRS A B DUNK)

OPEN - Dog

Entries: 3 Absentees: 0
1st
CH KANIX DUNCAN (MRS K S WILBERG)
2nd
DRAKESLEAT OTTO BAHN (MRS Z THORN-ANDREWS)
3rd
JONKATHS TIME TRAVELLER TO BOTHLYN JW (MRS E & MISS G FULTON)

MIN PUPPY - Bitch

Entries: 2 Absentees: 1
1st
VARRICH STRATHISLAY (MS K H MAC DONOUGH)

PUPPY - Bitch

Entries: 5 Absentees: 0
1st
KANIX HILDA AT STARGANG (MRS E P BLACKBURN)
2nd
MOLLONEY ZENA GHOST (MRS F HUTCHINGS)
3rd
LORDSCAIRNIE LOVE ACTUALLY (MRS S F MARSTON-TEAL)
Res
CAIROS NUALA LOVE (MR J R & MRS J A DUNN)
VHC
NORDACH DAPPLE DELIGHT AT TYTHE (MR S J WILLIAMS)

JUNIOR - Bitch

Entries: 4 Absentees: 1
1st
WELCUMEN BEST BONNET (MRS M J P PUNTER)
2nd
STARGANG MYSTIC CHARM (MR A & MISS E BRECHIN & HERBERT)
3rd
MONTRAVIA NIGHTIE NIGHT (MR P & MS M FREER & RODGERS)

POST GRAD - Bitch

Entries: 10 Absentees: 4
1st
STARGANG CRAFTY MUSIC FOR RUSSTECK (MRS C RUSSELL)
2nd
FOXEARTH FLOOZY (MRS L & MR T SEXTON & JOHNSTON)
3rd
WELLBURY TEARS OF ANGELS (MR J D HADDEN)
Res
LORDSCAIRNIE FANTASY LOVE (MRS S F MARSTON-TEAL)
VHC
UBU ABI (MRS D & MS M WHITEHOUSE & EVILL)

LIMIT - Bitch

Entries: 5 Absentees: 0
1st
DRAKESLEAT I REST MY CASE RABYMERE (MRS Z THORN-ANDREWS)
2nd
FOXEARTH FIXED ASSET (MRS L & MR Y & MRS B SEXTON & HAYWARD)
3rd
WELCUMEN BLACK HAT (MRS M J P PUNTER)
Res
WELLBURY KALINKA (MR J D HADDEN)
VHC
BUTE'S NAUGHTY LITTLE SISTER (MRS L & MISS A FORREST)

OPEN - Bitch

Entries: 7 Absentees: 1
1st
CH DRAKESLEAT LETTUCE OWT (MRS Z THORN-ANDREWS)
2nd
STARGANG PICKET LINE AT KANIX (MRS K S WILBERG)
3rd
CH STARGANG XQUISITE (MRS E P BLACKBURN)
Res
MOLLONEY ORAKEL (MRS L & MRS A SEXTON AND KNIGHT)
VHC
LORDSCAIRNIE LOVE ANEW (MRS S F MARSTON-TEAL)
MINIATURE WIRED HAIRED
It is a while since I judged these little people and found on the day a great variation in type some not fitting the standard very well. Heads seem to be a big problem at the moment they are not at all strong and some even toyish. On the plus side all were under the weight limit. Mouths have improved greatly with good strong correct clean teeth. As always with wire coats some could look better with a little more tidying up. My winners all had good hard coats. My thanks to the exhibitors who travelled so far to return with so little.
MPD. (3). 1. Robertson's, Soletrader Dax Factor. Lovely topline on this puppy. Head and eye correct. Good hard coat for one so young, good length of ribbing. Liked his overall conformation and he moved with verve round the ring with his handler, but his hind movement let him down going away. A very promising and eye catching puppy. Needs to mature.
PD. (4). 1. Blackburns', Kanix Hugo to Stargang. A youngster with a bright future I feel. Lovely front and keel correct shoulder placement with nice length of neck. Good ribbing. Well let down hocks. Well boned. Moved well to me he was a standard in Miniature. In the final line up he made the best of himself after a while and I could not deny him top honours. I have never given a CC to a puppy before as I believe they could change so much but he has it all. CC and BOB.
JD. (2). 1. Allan and Dicks', Auchens Roger the Lojjer. Found this dog more forward in shoulder which affected his front movement. His hind movement is not as sound as it could be either. Otherwise no glaring faults.
PGD. (3). 1. Russells', Ruseck Orsino. This dog won his placing on his overall conformation and good length of ribbing. Lovely front. Good head and eye. Was the better mover of the two. 2. Dunks', Loretto Snuffbox Sh CM. Shorter dog than winner found him to be rather short in upper arm which made him too close to ground at the front. Not the movement of winner.
LD. (3). 1. Molloney's, Terra Fried at Cotherstone. I found both these dogs short in ribbing, this one had a nice dark eye and good head. Lovely coat, reasonable feet. Moved round with good strode and the better of the two going away. 2. Dunks', Bothlyns Knight Dreamer at Bronia. A squarer dog than my winner lacking length of ribbing not the movement of winner. Head could be better.
OF. (3). 1. Ch. Wilbergs Kanix Duncan. Sire of my BOB winner. Lovely topline, good front. Nice feet. Good head and neck, well boned. Attractive little person. Worthy Champion. Had to give way to his son on the day. RCC. 2. Thorn-Andrews', Drakesleat Otto Bahn. Well presented dog with lovely outline. Good lay back of shoulder. Correct length of ribbing. Would prefer a stronger head. Moved soundly. Was very puzzled to find that when standing on the ground he was very narrow in front with front legs nearly touching. As he has good shoulders and a good front is this just a bad habit? 3. Fulton's, Jonkaths Time Traveller to Bothlyn.
MPB. (2). 1. MacDonoughs', Varrich Strathislay. Very young and immature puppy. Needs plenty of socialising, difficult to assess as she was upset by the large dogs in the adjacent ring. Promising little girl with no glaring faults. Needs tidying up.
PB. (5). 1. Blackburns', Kanix Hilda at Stargang. Litter sister to my Dog Puppy. Very similar. Good coat. Lovely front and topline. Should go far. On the day I preferred the dog on his better front movement. Two lovely puppies from this kennel. 2. Hutchings', Molloney Zena Ghost.Have admired this puppy from the ring side. Very solid with a good topline, correct shoulder placement. Nice let down hocks. Good head and eye, but another with a narrow front which when standing brought her front legs together. 3. Marston-Teals', Lordscairne Love Actually.
JB. (4). 1. Punter's, Welcumen Best Bonnett. Lovely coat. Nice and low to ground. Good head and eye. Moved soundly but in the challenge didn;t put her all into it. 2. Brechin and Herberts', Stargang Mystic Charm. Found this bitch rather short due to lack of length of ribbing. Her saving grace was that she had the best feet of the class and moved well. 3. Free and Rogers', Montravia Nightie Night.
PGB. (10). 1. Russells', Stargang Crafty Music for Russteck. Another bitch from this well known breeder. Not the best of heads. She has good tight shoulders. Good coat and moved soundly. 2. Sexton and Johnstons', Fox Earth Floozy. Again I did not care for her head. This bitch is nice and low to ground with good shoulder placement. Pity she flies her tail on the move which detracts from her topline. 3. Haddens', Wellbury Tears of Angels.
LB. (5). 1. Thorn-Andrews', Drakesleat I Rest my Case Rabymere. Good outline, good front. Correct shoulder placement and she has a good head and eye. Moved soundly coming and going. Beaten by her kennel mate into RCC as I felt my winner of Open had more quality. 2. Sexton and Haywards', Foxearth Fixed Asset. A lower bitch than my winner. Good coat. Again I didn't find the quality in her front or head and she lost out on movement to my winner. 3. Punters', Welcumen Black Hat.
OB. (7). Thorn-Andrews', Ch. Drakesleat Lettuce Owt. Lovely bitch with good head and eye. Well presented. Very good construction all the way through. Moved soundly. BCC. In the final for BOB just couldn't resist the solid build and construction of the Dog Puppy. 2. Wilburgs', Stargang Picket Line at Kanix. Well made bitch with a lovely topline. Typical of this breeding. Good length of ribbing and correct lay back of shoulder. Moved well not the glamour of my winner, but her day will come. 3. Blackburns', Ch. Stargang Xquisite.
Jean Matthews