Leeds Championship Show 2005
Dachshund (Miniature Wire Haired)
Judge: Miss Maria Lerego (Tecklegarth)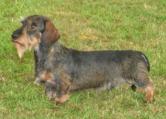 Best of Breed - Thorn-Andrews - Ch Drakesleat Otto Bahn
Dog CC : Mrs Z THORN-ANDREWS Ch Drakesleat Otto Bahn
Res Dog CC : Mrs B WOMBLE Emem Wind In The Willows
Bitch CC : Mrs F HUTCHINGS Molloney Zena Ghost JW
Res Bitch CC : Mrs E P BLACKBURN Kanix Hilda at Stargang
Best Puppy : Mrs E P BLACKBURN Kanix Hilda at Stargang
BEST OF BREED : Mrs Z THORN-ANDREWS Ch Drakesleat Otto Bahn

Minor Puppy Dog (3 Entries) Abs: 0
1st: Mr K S WILBERG Tysar Robin Hood at Kanix
2nd:J HASSALL, D & J A & VIZARD Charnealis Huggy Bear
3rd: Mrs D WHITEHOUSE Ubu Santa's Little Helpa
Res:
VHC:

Puppy Dog (6 Entries) Abs: 1
1st: Mrs E P BLACKBURN Kanix Hugo to Stargang
2nd: Mr J HORSWELL Drakesleat Vincent Van Goff
3rd: Mrs K POXON Kapodach Rio Conchos
Res: Mrs M J P PUNTER Welcumen Top Hat
VHC: Mr J R & Mrs J A DUNN Cairo's Joylove

Junior Dog (4 Entries) Abs: 1
1st: Mr P J & Mrs N F PRICE Samlane Manilow
2nd: Mrs H MOORE Danvichar Bergamot
3rd: Miss R MOSS Roselle Luke Skywalker
Res:
VHC:

Post Graduate Dog (4 Entries) Abs: 0
1st: Mrs R BARNEY Verrami Brown Doff
2nd:Mrs C E RUSSELL Russteck Orsino
3rd: Mrs L RATHBONE Brialind Galahad
Res: Mrs A B DUNK Loretto Snuff Box Sh.CM
VHC:

Limit Dog (2 Entries) Abs: 0
1st: Mrs B WOMBLE Emem Wind In The Willows
2nd: Mrs A B DUNK Bothlyn Knight Dreamer at Bronia
3rd:
Res:
VHC:

Open Dog (5 Entries) Abs: 1
1st: Mrs Z THORN-ANDREWS Ch Drakesleat Otto Bahn
2nd: Mrs K S WILBERG Ch Kanix Duncan
3rd: Mrs E & Miss G FULTON Jonkaths Time Traveller to Bothlyn JW
Res: J HASSALL, Mr D & Mrs J A & McLEOD Janjac Costa Packit
VHC:

Minor Puppy Bitch (9 Entries) Abs: 2
1st: Mr R WRIGHT Rotella Never An Angel
2nd:Mrs M M DANCE Emem Hello Ena
3rd:Mr C H & Mrs J HOLGATE Drakesleat Gaysha Girl at Nadavin
Res:Mr J R & Mrs D MACKENZIE Tysar Tinkerbell
VHC:Ms M EVILL Ubu Star of Wanda TAF

Puppy Bitch (6 Entries) Abs: 1
1st: Mrs E P BLACKBURN Kanix Hilda at Stargang
2nd:Mr C H & Mrs J HOLGATE Drakesleat Gaysha Girl at Nadavin
3rd: Mr J R & Mrs J A DUNN Cairo's Nuala Love
Res: Ms K MACDONOUGH Varrich Strathislay
VHC:Mrs J MOBLEY Jakanem Truly Scrumptious

Junior Bitch (9 Entries) Abs: 1
1st: Mrs F HUTCHINGS Molloney Zena Ghost
2nd:Mrs M J P PUNTER Welcumen Best Bonnet
3rd:Mr K, Mrs L & Miss E BLACK Bassodon Borgia
Res:Mrs S F MARSTON-TEAL Lordscairnie Love Actually
VHC:Ms E BRECHIN, Mr A & HERBERT Stargang Mystic Charm

Post Graduate Bitch (8 Entries) Abs: 3
1st: Mrs J E & Mr I J WALKER Kapodach Lovit to Bitz at Roselle
2nd:Mr J R & Mrs J A DUNN Cairo's Charlotte Bronte
3rd: Miss B POWELL Forbell May Bea
Res: Mrs M YOUNG Spengretta My Connie
VHC:Ms K MACDONOUGH Beckel Flutterby Bothlyn

Limit Bitch (6 Entries) Abs: 2
1st: Mrs Z THORN-ANDREWS Drakesleat Nuffin Toulouse
2nd:Mr J HORSWELL Drakesleat Why Knot
3rd:Ms E BRECHIN, Mr A & HERBERT Stargang Ilex
Res:Mr R WRIGHT Charnealis Lourdes
VHC:

Open Bitch (10 Entries) Abs: 1
1st: Mrs E P BLACKBURN Ch Stargang Xquisite
2nd:Mrs R BARNEY Ch Verrami Vera Right
3rd:Ms M C FREER, Mr P O & RODGERS Loretto Finnishing Touch To Montravia
Res: Mrs Z THORN-ANDREWS Drakesleat I Rest My Case Rabymere
VHC: Mrs A SEXTON Mrs L & KNIGHT Molloney Orakel


MINIATURE WIRE: I thoroughly enjoyed my appointment. I had a full range of quality and was v pleased with my top winners. The p and junior classes were particularly strong which bodes well for the future. However, I did find far too many that were loose at the elbow, short keels and soft coats. On the whole heads seemed to have improved, but there were still a few with domed skulls coupled with weak muzzles and protruding eyes. I was not surprised to find out after judging that many of the younger exhibits are CC winners. This is v encouraging.
MPD (3). 1 Wilberg Tysar Robin Hood At Kanix. V smart chap. Excellent coat, v good head with lovely outline stood and on the move. Movement satisfactory; 2 Hassall Vizard Charnealis Huggy Bear. This p excels in front construction, lovely head, ear and eye, tended to loose topline on the move; 3 Whitehouse Ubu Santa's Little Helpa.
PD (6). 1 Blackburn Kanix Hugo To Stargang. Super chap with excellent coat. Masculine head, much better front construction than most. Good tight feet with thick pads, moved correctly fore and aft. Good topline at all times; 2 Horswell Drakesleat Vincent Van Goff. Another super p but coat not quite as harsh as 1. Super outline stood and on the move. Hind action not as positive as 1; 3 Poxon Kapodach Rio Conchos.
JD (4). 1 Price Samlane Manilow. Another p. Lots of substance. Excelled in head, correct front with well angulated hind end, strong short loin, v good positive hind action; 2 Moore Danvichar Bergamot. Fabulous jacket on this exhibit. Well angulated front and rear. Movement ok. Rather longer in loin than 1; 3 Moss Roselle Luke Skywalker.
PGD (4). 1 Barney Verrami Brown Doff. Chocolate and tan with good hard coat, and good pigmentation. Super front with correct movement front and rear. Ribs carried well back. BDP. Not at all surprised to find that he has already won a CC; 2 Russell Russteck Orsino. Brindle with excellent coat and good pigmentation. Super head and front. Preferred the ribbing and hind action of 1; 3 Rathbone Brialind Galahad.
LD (2). 1 Womble Emem Wind In The Willows. Super head, coat and outline. Excelled in front construction, with correct hind end and correct movement. Good length of ribbing RCC; 2 Dunk Bothlyn Knight Dreamer At Bronia. V sedate gent. Good hind angulation, lost out to 1 on coat texture and front construction.
OD (5). 1Thorn-Andrews Ch Drakesleat Otto Bahn. Pleasing head, front construction superior to most, with elbows tight to ribs. Beautiful topline stood and on the move. Excellent coat, excelled in hind action. All exhibits from this kennel had the best hind action bar none. DCC and BOB; 2 Wilberg Ch Kanix Duncan. Another super d, not quite the coat or hind action of 1. Lovely front with strong legs and feet. Super masculine head; 3 Fulton Jonkaths Time Traveller To Bothlyn JW.
MPB (9). 1 Wright Rotella Never An Angel. Some excellent p's in this class. This little b is quite outstanding. A true standard in miniature. Excellent front and hind angulation. Super outline stood and on the move, with correct action. Lovely feminine head and excellent coat. I hope she reaches the v top; 2 Dance Emem Hello Ena. V different in type, but an apple bottom to die for! V good front and hind angulation, not quite as feminine as 1 and perhaps a shade close to ground; 3 Holgate Drakesleat Gaysha Girl At Nadavin.
PB (6). 1 Blackburn Kanix Hilda At Stargang. Lovely head and front with well angulated behind. Ribs carried well back. Excellent coat moved freely fore and aft. Reserve CC and BP; 2 Holgate Drakesleat Gaysha Girl At Nadavin. Lovely outline on this b. Coat could be harsher. Movement ok. Ribs carried well back. Correct hind angulation. Feminine head with melting expression; 3 Dunn Cairo's Nuala Love.
JB (9). 1 Hutchings Molloney Zena Ghost. Fabulous outline stood and on the move. Correct front construction and excellent hind angulation. Positive correct movement fore and aft. Pleasing head with beautiful flowing neck. Good hard coat. BCC; 2 Punter Welcumen Best Bonnet. Excelled in coat, correct front with deep keel. Lovely head, preferred hind movement of 1; 3 Black Bassodon Borgia.
PGB (8). 1 Walker Kapodach Lovit To Bitz At Roselle. Balanced b with attractive head, good topline stood and on the move. Good jacket; 2 Dunn Cairo's Charlotte Bronte. Excellent coat on this chocolate and tan. V prominent sternum. V good pigmentation for colour, deep keel. Perhaps a shade over angulated behind; 3 Powell Forbell May Bea.
LB (6). 1 Thorn-Andrews Drakesleat Nuffin Toulouse. Lovely little red b, super hind end with correct movement, good outline on the move; 2 Horswell Drakesleat Why Knot. Another nice little girl, same comments apply, but preferred hind action of 1; 3 Brechin and Hrbert Stargang Ilex.
OB (10). An excellent class. 1 Blackburn Ch Stargang Xquisite. V smart brindle, super front and topline, v good hind angulation and excelled in movement. V good harsh coat; 2 Barney Ch Verrami Vera Right. Another super b and same comments apply, just preferred the topline of 1 on the move; 3 Freer and Rodgers Loretto Finnishing Touch To Montravia.
M Lerego