SMOOTH HAIRED DACHSHUND CLUB 2022
Judge : Geraldine Brace
Best in Show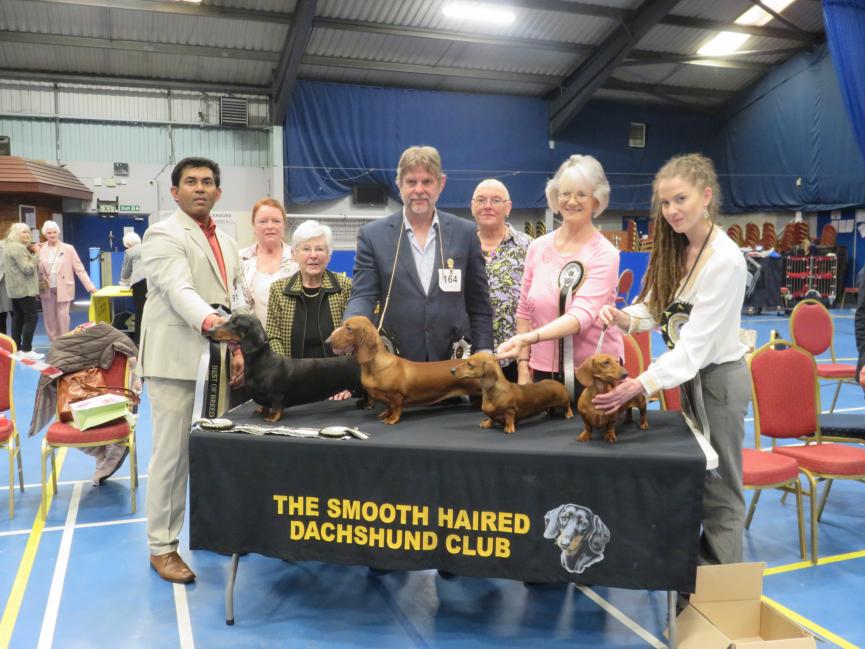 (L to R - BIS, BPIS, BVIS, BSBIS)
BIS - CHANUANS Ch Adnerb Take a Chance on Me at Raajput - Smooth Haired
RBIS - BLACKBURN BENNETT Ch Stargang Cherry Berry - Miniature Smooth Haired
Best Puppy in Show
BPIS - MOES & WILLIAMS Cwmdarhian the Governess - Smooth Haired
RBPIS - MELBOURNE, PAGET & CARROLL Shantallah Adelaide at Melriding - Min Smooth Haired
Best Veteran in Show
BVIS - ERGIS Ch Siouxline Rapunzel with Melriding - Miniature Smooth Haired
Best Special Beginner in Show
BVIS - COROMINAS Luna Nueva De Los Olivos De Quinto - Miniature Smooth Haired
I was delighted and honoured to be invited to judge Best in Show at The Smooth Haired Dachshund Club Championship Show.
BEST IN SHOW: Chauhanís Ch. Adnerbs Take A Chance On Me At Raajput.
Black and Tan. Ultra-feminine hound, oozing with quality. Beautiful head with a dark almond eye. Elegant arched neck, firm strong topline and well angulated quarters making for a stunning outline.
A pleasure to watch on the move, sound, and foot perfect out and back covering the ground with an easy reach and drive. Super temperament, she knows she is lovely, and she shows it.
Expertly handled and presented in superb condition.
Reserve Best in Show: Blackburn-Bennettís Ch. Stargang Cherry Berry.
Shaded Red. Stylish quality hound. Attractive head and expression. Well arched neck, firm topline and well-made quarters. Moved soundly out and back keeping a firm topline. Presented in super condition.
Best Puppy in Show: Moes & Williamsí Cwmdarhian The Governess.
Stunning Red of just six months. Feminine head and dark almond eye. Good reach of neck flowing into correct shoulders. Excellent fore chest, well sprung long deep ribbing. Well made strong quarters. Showed herself perfectly both stacked and on the move. Lovely temperament, presented in superb condition.
Reserve Best Puppy in Show: Melbourne, Paget & Carrollsí Shantallah Adelaide at Melriding.
Shaded Red youngster. Pretty head and eye, good length of neck into good shoulder placement. Good body, neat quarters.
Best Veteran in Show: Ergisí Ch Siouxline Rapunzel with Melriding.
Red, elegant, 8 eight years old. Superbly fit and in excellent condition. She moves with ease and drive covering ground with style and little effort. Beautifully handled and presented.
C. Geraldine Brace