LONG HAIRED DACHSHUND CLUB 2022
Judge : John Bennett

Best in Show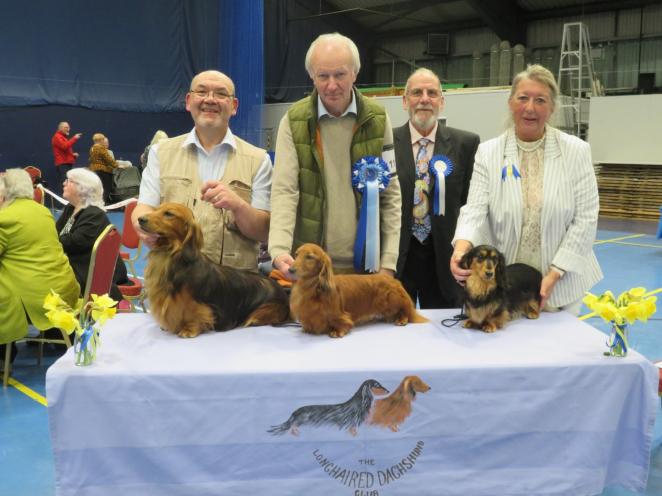 (L to R RBIS, BIS, BPIS)
BIS - WOOD Ch Wildstar Wrobinson JW - Miniature Long Haired
RBIS - ROBERTS Ch Swansford Gregorydor - Long Haired
Best Puppy in Show
BPIS - BUTLER Minard Out of the Darque from Drymoor - Miniature Long Haired
RBPIS - MOORAT Langleybury Electra - Long Haired
Best Veteran in Show
BVIS - GARLICK Ranglewood Arashi - Long Haired
I was delighted to be invited to Judge BIS for the Long Haired Dachshund Clubs Championship Show. The committee made me most welcome and I really enjoyed my day there.
The two dogs presented before me for BIS were ideal candidates for this title. Both super type Dachshunds, well proud to represent the Breed and a Credit to both Owner and Breeder.
BIS Wood's Ch Wildstar Wrobinson. Miniature Long. A super dog to go over, presented in super condition, sound in everyway and a credit to his Breeder and Owner. Well shaped head and dark eye. Correct tight elbows, good shoulder placement, lovely tight feet. Excellent length of ribbing, sound hindquarters. He kept his topline at all times and flowed round the ring, full of confidence. A dog I have Judged before and is still as good as he was when I last Judged him.
Res BIS. Robert's Ch Swansford Gregorydor. Long Haired. Lovely type well structured and presented in top condition. Good masculine head, dark eye. Tight feet, Super coat in great condition, Fair length of ribbing. Good hind angulation. Moved well.
BPIS Butler's Minard Out Of The Darque From Drymoor. Miniature Long Haired. Lovely Puppy, well behaved and in good condition. Correct well shaped head, fair reach of neck. Good length of ribbing. Correct hind angulation. Moved with Drive and determination, maintaining topline at all times.
BVIS Garlick's Ranglewood Arashi. Long Haired. 8 year old Dog in excellent shape and condition. Correct Head, eye and reach of neck. Good Forechest and front assembly, tight elbows, well ribbed, and moved well. Firm topline at all times.
Kind regards
John Bennett. (Shardaroba)