SMOOTH HAIRED DACHSHUND CLUB 2021
Judge : Sue Seath

Best in Show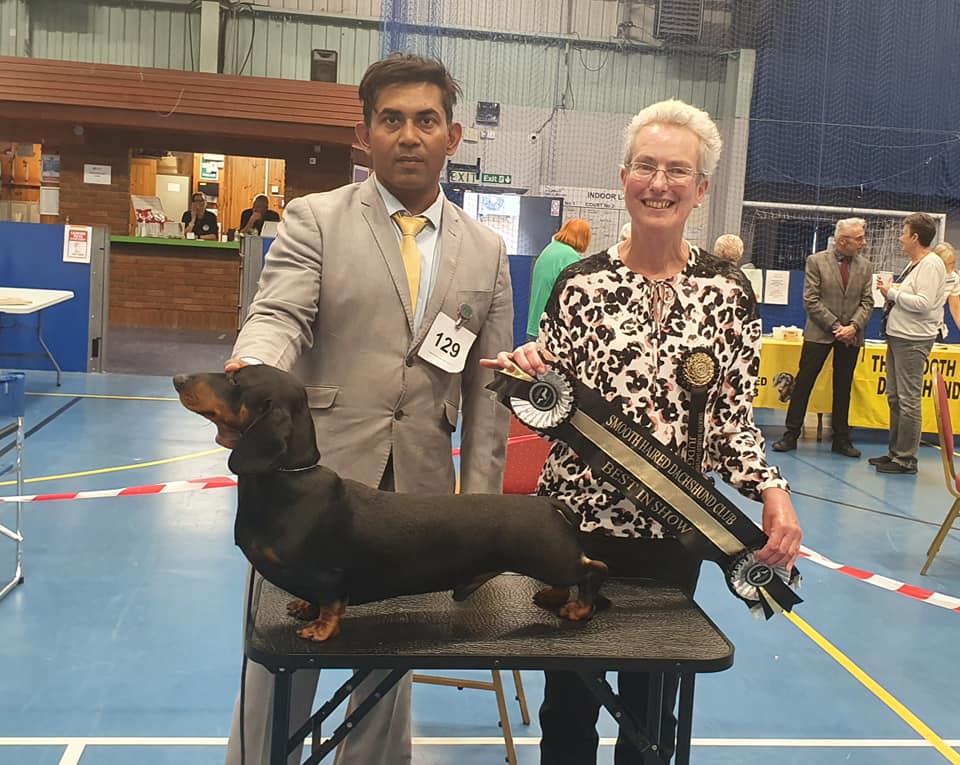 BIS - Manish Chaunhan's Raajput's Blacky Returns SS
RBIS - Chris Moe's & Rhian William's Ch Cwmdarhian X Factor MS
Best Puppy in Show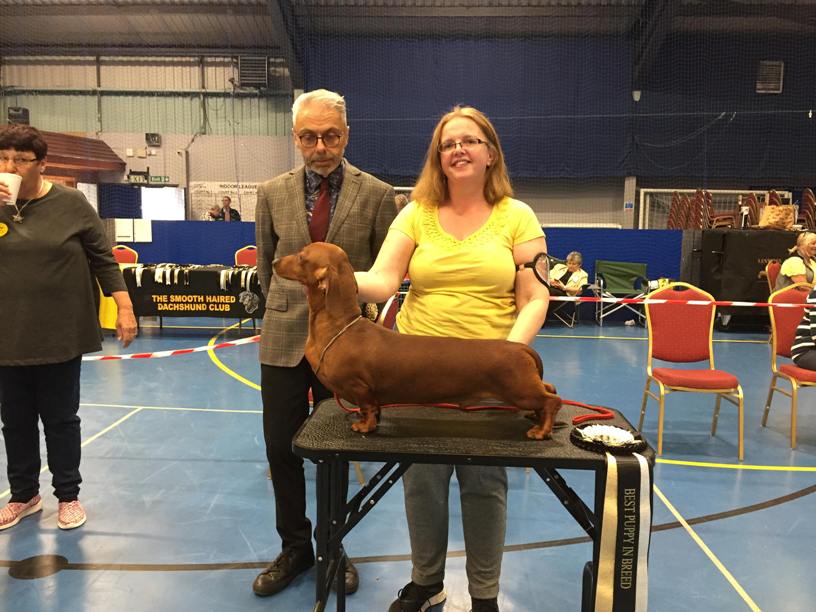 BPIS - Lesley McNaughton's Cedavoch Struuann SS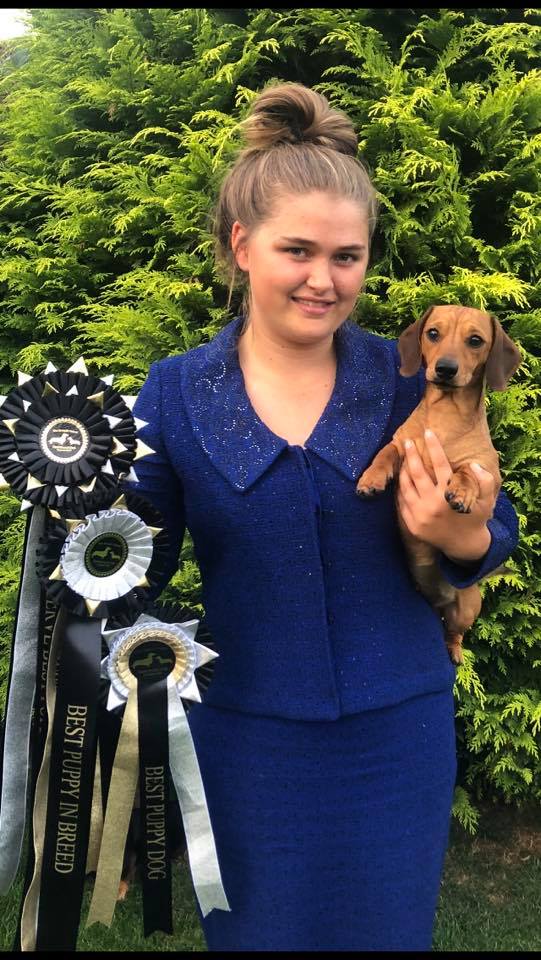 RBPIS - Angie & Daisy Mason's Teckeltown Masterpiece MS
Best Veteran in Show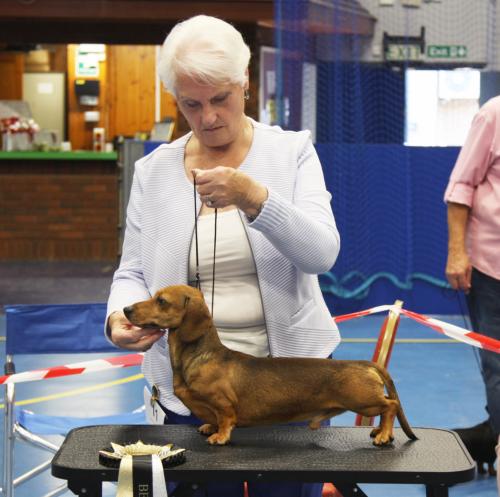 BVIS - Lovaine Coxon's Ch Distinctly So D'Arisca MS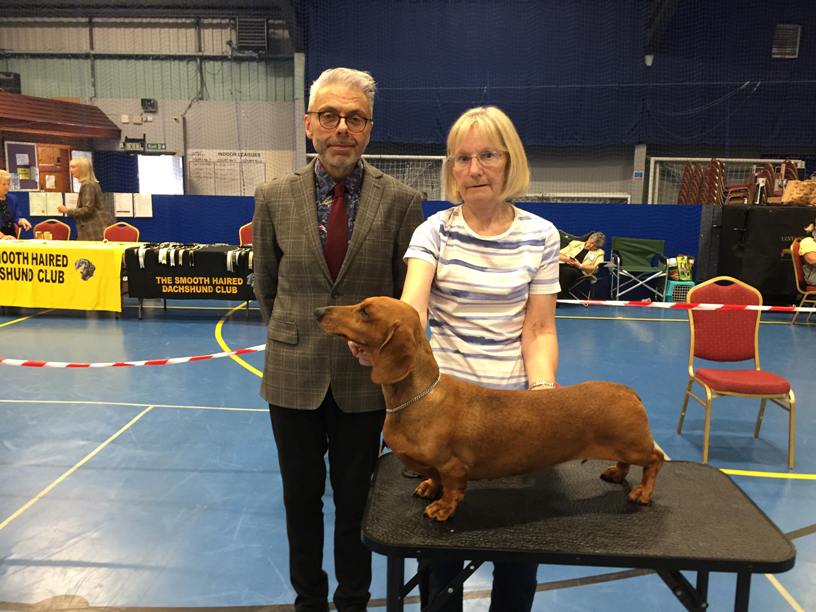 RBVIS - Marilyn Norton's Ch Matzell Minella SS
Best In Show was Chauhan's Smooth RAAJPUT'S BLACKY RETURNS Quality black and tan dog of nearly 18 months. Textbook construction and so well balanced. Has good bone and substance throughout and eye-catching outline. Strong, masculine head carried proudly on good reach of neck which flows into correctly placed, well laid back shoulders. Good length of upper arm and correct forechest. Pleasing body shape and topline which he held at all times in stance and on the move. Well angulated hindquarters complete the picture. His high level of quality of construction translated into sound, fluid movement with a good length of stride viewed in profile and sound, parallel action up and back. Confident dog, handled to advantage.
Reserve Best In Show was Williams & Moes' Miniature Smooth CH. CWMDARHIAN THE XFACTOR Elegant, beautifully constructed and feminine red bitch with pleasing outline and firm, level topline. Stands true and is well angulated in fore and hindquarters. Carries herself well on the move, holding her shape in profile and displaying sound action up and back. I just preferred the head type of the standard.
Best Puppy In Show was the Smooth, McNaughton's CEDAVOCH STRUUANN 9 month old rich red dog with lovely bone and substance throughout. Attractive head with dark eye and keen expression. Good length neck flows into well placed shoulders. Well bodied for his age, but still needs to tighten in movement and found the slippery floor a bit of a challenge! Once he got into his stride, he displayed fluid movement and held his outline well in profile action. Just needs to gain a little more confidence.
Reserve Best Puppy In Show was the Miniature Smooth Mason's TECKELTOWN MASTER PIECE Smart shaded red dog of 11 months. Handled to advantage to display his qualities. Masculine head carried proudly on good reach of neck. Firm, level topline held in stance and on the move. Well angulated in fore and hindquarters, but not quite as strong behind as the standard at this stage. Two very promising puppies.
Best Veteran was the Miniature Smooth, Coxon's CH DISTINCTLY SO D'ARISCA Quality 7 year old shaded red dog who also displays textbook conformation, especially in forequarters where he excels, with correctly placed and laid back shoulders, good length of upper arm to complement and correct forechest. Still carries a firm topline and has beautifully angulated hindquarters to complete the picture. Sired by a dog I have admired and previously awarded a Reserve CC to as a youngster, so no surprise I liked his son! Moved out with free stride and accurate up and back movement.
SUE SEATH (Judge)