MIDLAND DACHSHUND CLUB 2021
Judge : Katherine Herrington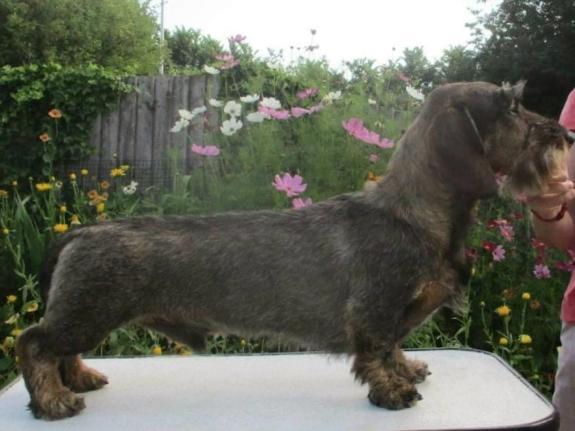 Best in Show
BIS - Halcyon Pughe & Christine Fraser's Bystock Big Bucks SW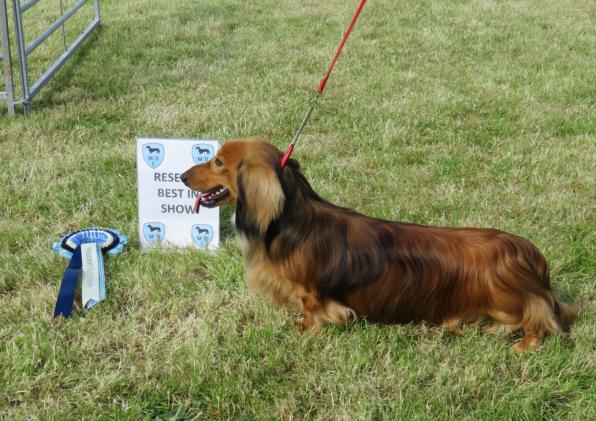 RBIS - Lloyd Cross's Loggeta Trouble in Texas SL
Best Puppy in Show
BPIS - Fran Mitchell's Bronia Antonella MS
RBPIS - Roy Wood's Wildstar Wrolanda ML
Best Veteran in Show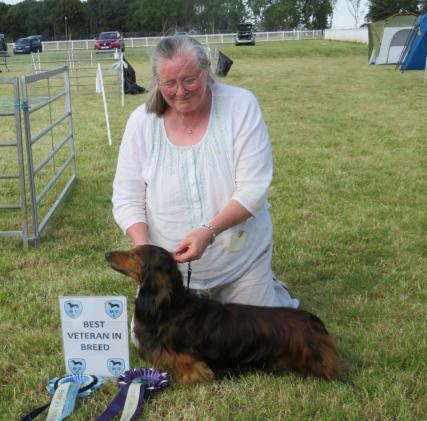 BVIS - Liz Garlick's Ranglewood Arashi SL
I thank the committee for inviting me to judge BIS .It was a very hot day but all exhibits moved well. It was a very good line up of the six BOB.
Best in Show Std Wire Pughe & Frasers Bystock Big Bucks. Pleasing head & eye good front & length of ribbing well angulated qtrs. Covered the ground well moving with ease and style keeping a lovely outline.
Res.BIS Std long Cross's Loggeta Trouble In Texas. Masculine head good reach of neck, well placed shoulders, strong qtrs moved out freely with drive.
BPIS Min Smooth Mitchell's Bronia Antonella 10 month bitch with Femine head and dark eye good reach of neck leading into well laid shoulders. Moved out well .
Res.BPIS Min Long Woods Wildstar Wrolanda Pretty femine head good angulation shoulders and ribbing moved out well.
BVIS Std Long Garlick's Ranglewood Arashi 7 year old male, Good head and length of neck into well laid shoulders. Strode out keeping a good topline.
Katherine Herrington (Judge)