LONG HAIRED DACHSHUND CLUB 2021
SHOW 2
Judge : Mike Caple

Best in Show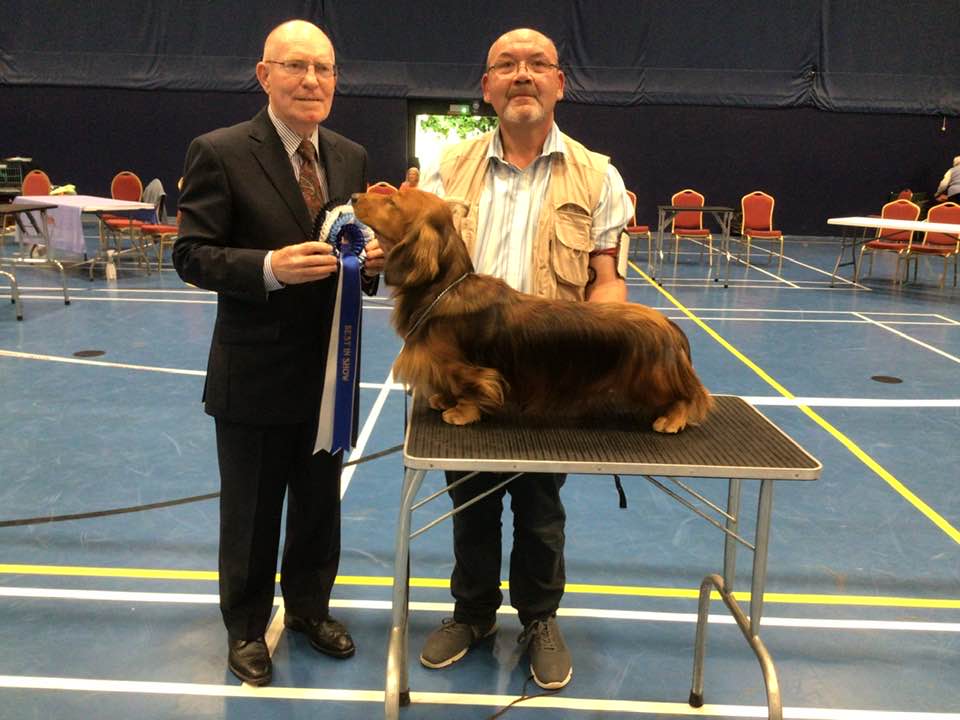 BIS - Daniel Robert's Ch Swansford Gregorydor SL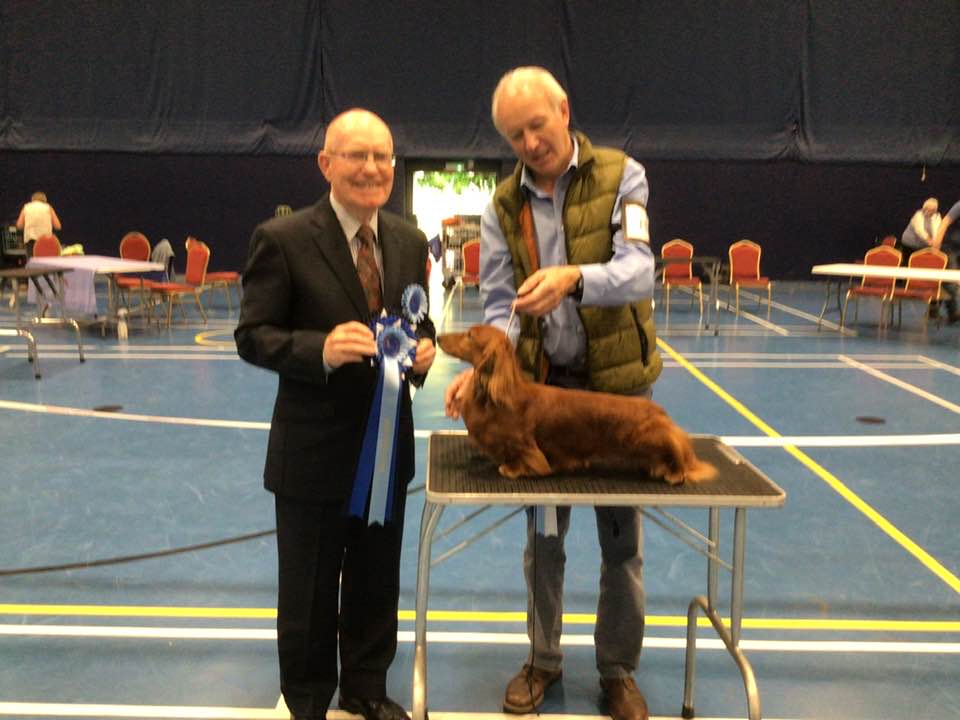 RBIS - Roy Wood's Ch Wildstar Wrobinson JW ML
Best Puppy in Show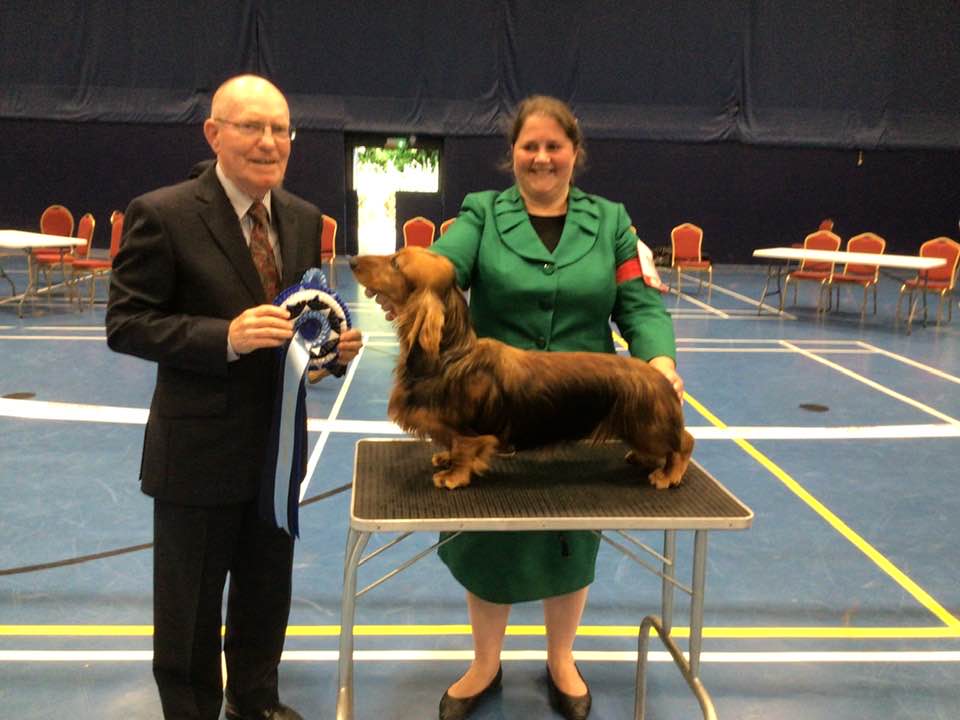 BPIS - Helen Geeson's Abydachs Return of the Night SL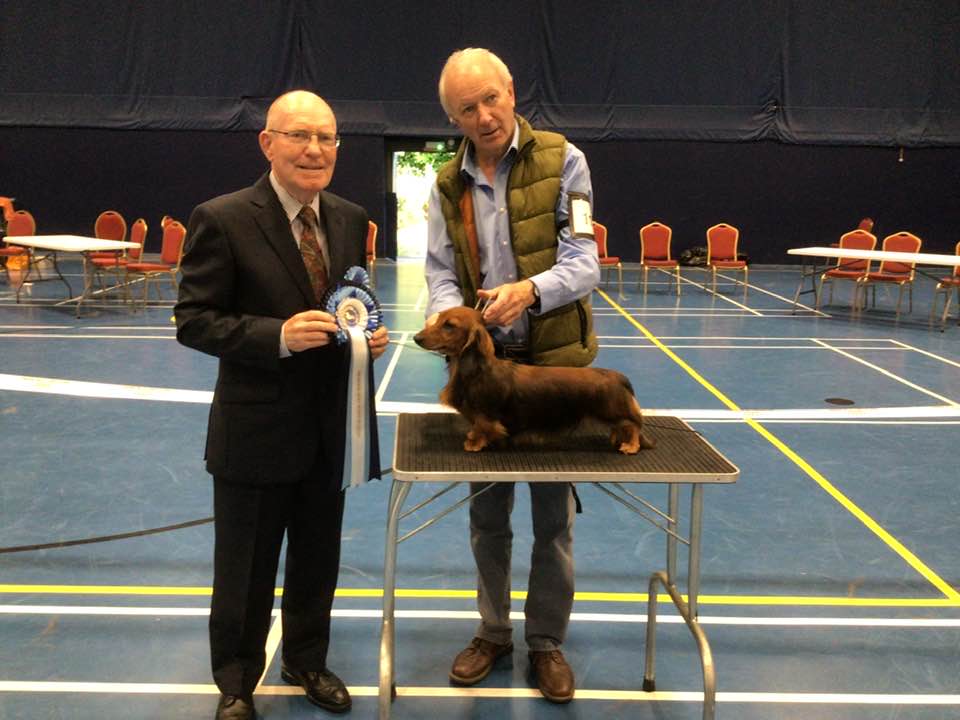 RBPIS - Roy Wood's Wildstar Wrolanda ML
Best Veteran in Show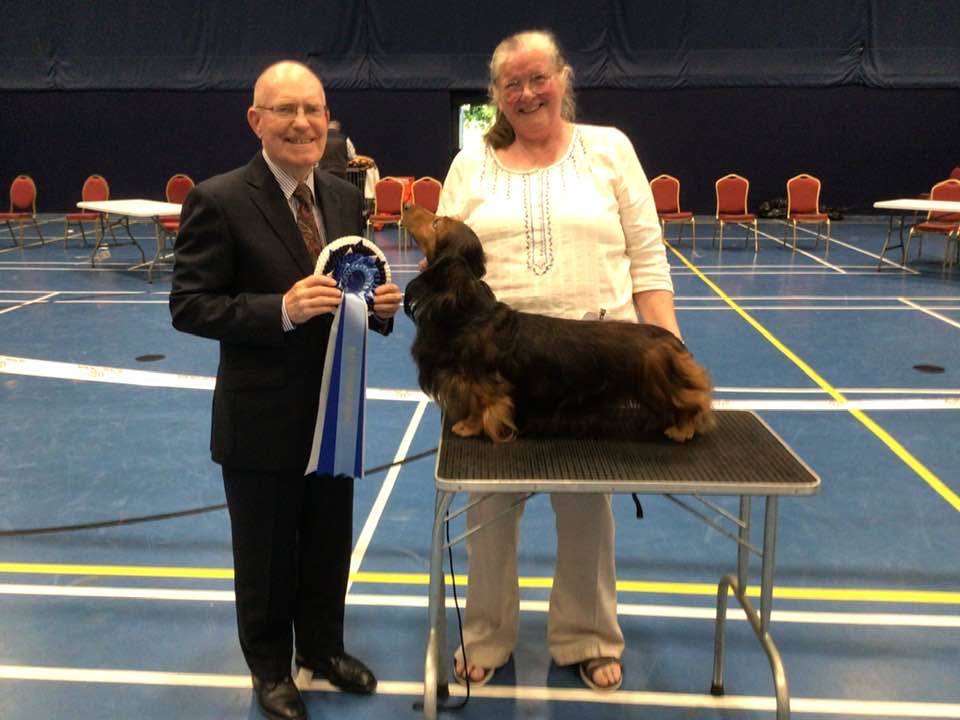 BVIS - Liz Garlick's Ranglewood Arashi SL
It gave me great pleasure to officiate as BIS Judge for Show 2 which took place in the afternoon, Show 1 having taken place earlier.
It became a little too warm as the afternoon progressed, the heat affecting some exhibits. I was called as referee to decide BOB in Miniature Longs & BP in Longs. It was certainly a day for the Longs.
BIS: Long SWANSFORD GREGORYDOR
This 12 mth handsomely headed shaded red, is certainly on a roll at present. I was pleased to continue this , he could not be denied.
Very typy of lovely size & balance, construction is spot on. Ideal forehand, well ribbed back to strong loin & well rounded, muscular "hammy" hindquarters. In firm muscular condition, great bone & feet, super coat. Movement is true away & back & profile action is free.
The drive from his strong hindquarters was the deciding factor between these 2 outstanding dogs.
RBIS: Min Long CH WILDSTAR WROBINSON JW
Another superstar, now 5 yrs, this well balanced red boy was so close up here. Has a handsome head, dark eye, text book angulation, well filled thorax, ideal forehand , well ribbed back, firm topline, muscular hindquarters, moved out very smartly, carrying his tail correctly.
Excellent presentation, just preferring the hind propulsion of the youngster here.
BPIS: Long. ABYDACHS RETURN OF THE NIGHT
High quality shaded red of 8 mths, bred in the purple, well up to size, however, his construction , balance & outline demands attention, must have a bright future.
Fabulous headpiece, strong jaw, dark eyes, textbook construction, pleases in both fore & hindquarters, well presented flat lying coat, movement was sound & true
RBPIS: Min Long WILDSTAR WROLANDA
Another quality youngster, 10 mth red who presented a balanced outline, pleases all thro,beautiful head & eye, pleases in both fore & hindquarters, well ribbed back, excellent presentation, carried herself well, another with a bright future.
BVIS: Long RANGLEWOOD ARASHI
7 yr dark shaded red boy, pleasing outline, handsome head, strong jaw,, well filled front, firm body, level topline, good construction & musculature, movement sound & free.
RBVIS : Min Long. NEERTANAUF SEA MAGIC. JW ShCM.
Handsome s/r now rising 11yrs, houndy head & expression, reachy neck into well placed shoulders, well ribbed back, holds himself well with level topline, shown in excellent condition.