SMOOTH HAIRED DACHSHUND CLUB 2016
Judge : Judy Squires
Best in Show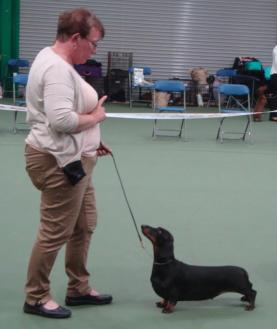 BIS - Seago & Gibbard's Ch Amlida Evora SS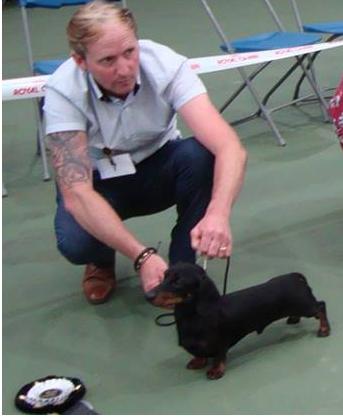 RBIS - Barrett's Ch Ayseebee Rumour Has It MS
Best Puppy in Show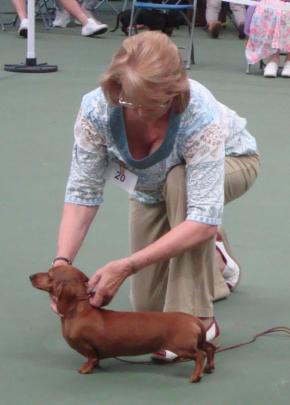 BPIS - Ergis's Siouxline Esther Rose MS
RBPIS - Kerry & Trotter's Kireton Beau Diddley SS
Best Veteran in Show
BVIS - Kent's Ch Barratini Jeeves at Lokmadi JW MS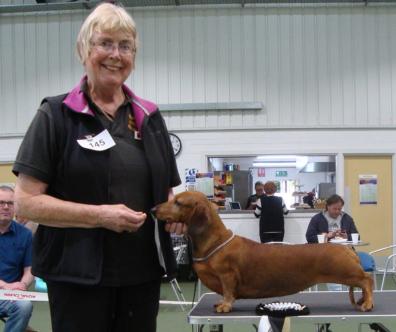 RBVIS - Turner's Marictur Moulin Rouge SS
I would like to thank the Smooth Club for the honour of judging their Best in Show. I thoroughly enjoyed my day with them and thank them for their kind hospitality. In my opinion, the two breed judges sent through very good examples of their respective varieties.
Both dogs I had to consider for BIS were b/t, beautifully presented and worthy champions with the added bonus of having happy, outgoing temperaments. My BIS was the Standard, Seago and Gibbard's Ch Amlida Evora a well boned and soundly constructed bitch without exaggeration. Good head and length of neck running into well placed shoulders and well muscled body with good length of ribbing. She moved out positively and with animation. She really deserved her placing today. RBIS was the Miniature, Barrett's Ch Ayseebee Rumour Has It another quality exhibit with correct front and general body construction. A smart dog and a worthy representative of the variety. He moved out well in profile but just preferred Evora's head and more positive movement.
I made BPIS Sue Ergis' clear red, 10 month Miniature Siouxline Esther Rose. She filled my eye as she entered the ring. She must have great potential not only in the show ring but for the Siouxline breeding programme. A great example that a well boned and well covered Miniature of the correct weight can be bred. I noticed that her mother won the Bitch CC today. Lovely to go over, nothing overdone or flashy but everything in the right place topped off with a lovely head and hammy quarters. Moved out soundly with her handler, especially for one so young. RBPIS was Kerry and Trotters Kireton Beau Diddley . A 10 month quality b/t Standard shown in good condition Good head and eye and general body construction. He moved out well in profile but not so positive in front and rear action as Esther Rose.
Both Veterans were shown in very good condition and obviously enjoying their day in the limelight. I made the Miniature, Kent's Ch Barrantini Jeeves at Lokmadi BVIS. A lovely 8 year old b/t who was not showing his age and certainly could show the youngsters a thing or two about ring presence. He worked well with his handler to show of his attributes. Another quality exhibit and worthy champion and deserved his win today.