SOUTHERN DACHSHUND ASS 2016
Photos by Emily Guy
Judge : Nora Price

Best in Show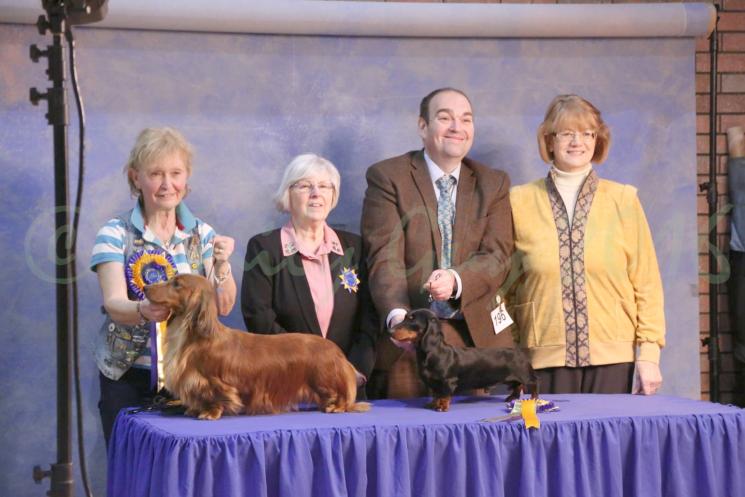 BIS - Cindy Dare's Ch Swansford Nigelladora Darsoms SL
RBIS - Hunt's Carpaccio Casablanca MS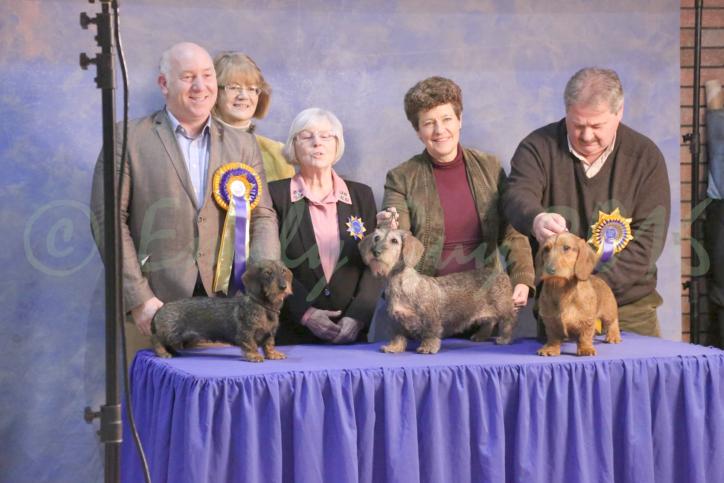 Best Puppy in Show
BPIS - Smith & Flower's Bingobongo's Short and Sweet MW
RBPIS - Sorensen's Tendrow Time After Time SW
Best Veteran in Show
(Middle)
BVIS - McCalmont's Ch Silvae Mystic SW
My thanks to the committee for their invitation to judge and for their kind hospitality.
Dare`s Long haired Ch Swansford Nigelladora Darsoms took BIS; such an elegant girl shown in immaculate condition; correct head into strong neck and tight shoulders; well bodied with correct ribbing to loin; strong rear used to full advantage on this floor; tight feet and so well boned. Movement so sound.
Reserve BIS, close up, Hunt`s Mini Smooth Carpaccio Cassablanca; again shown in superb condition. I judged him as a puppy and he is fulfilling his promise. Beautiful dark almond eye set well; good head and neck; well placed shoulders; muscled body with good ribbing; well angulated rear; lovely tight feet. Moved out well.
Both dogs were as one with their handlers .
The puppy line up was also impressive
All of these puppies were a credit to their owners and all enjoyed themselves.
BPIS went to the extrovert Flower& Smith`s Bingo Bongo Short and Sweet; how she moved round this ring with strong drive and good forward reach. Prettiest of heads; strong neck into well placed shoulders; well bodied with good ribbing. An excellent wire coat –well presented.
RBPIS went to an equally extrovert Wire; Sorenson`s Tendrow Time After Time; balanced masculine head; strong neck , good shoulders; well muscled body for his age; well angulated rear. Moved soundly –well handled handful.
Four super veterans who all enjoyed their day.
Best Veteran- McCalmont`s Wire Ch Silvae Mystic –nearly 10 years of age and still full of mischief. Pleasing head; strong wire coat and body; well angulated and moved out well. Obviously loved the show ring.
Nora Price (Judge).